I don't ever do 'quilt-a-long's. Too much pressure. Never enough time.
But here I am joining in with
this
.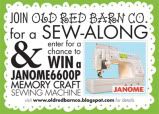 Also, I don't like blue. Never have.
But when I went in to
Amitie
today to purchase my fabrics for the quilt along, I ended up with these ....
I walked into the shop and said to myself:
"Whichever is the first fabric to catch my eye will be in the quilt and I will build the selection around that one".
Here was my first choice:
and I simply had to add in all these .....
This will be the binding .....
Looking forward to seeing how it will all turn out .... if I can find the time!!
Andi :-)
Edit: 20/5/09
For those of you wanting to know what all these fabrics are, I say .... "I'm not sure. They just looked pretty in the shop". But the good news is that the shop liked this selection too and is turning them into a kit, so call up (or email) Amitie and ask them for more info.