I'm so excited and humbled by the projects all you crafty bloggers have put together to assist victims of the Victorian Bushfire tragedy.
For anyone reading this who is interested in making a crafty contribution, just check
here
or
here
or
here
.
Also, check out this site raising money by auctioning lots of lovely handmade items.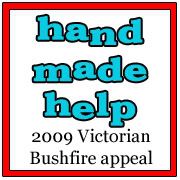 Also, if you want to make a much needed $$$ donation, check out the
Red Cross website
for details.
Handmade items can be directly donated at the following locations in Melbourne:
Amitie Textiles - 281 Centre Road, Bentleigh
Meet Me At Mikes - 63 Brunswick Street, Fitzroy
My Poppet - 717 Glenhuntly Road, Caulfield South
My plan is to drop these 2 quilts directly to
Amitie
so they can hopefully bring some colour and comfort to those most in need:
What will you be doing to help?
Take care of yourselves and hug your loved ones especially tight tonight.
Andi :-)